Chris Clover is going on an adventure this summer as we journey fourward together with the Wisconsin 4-H Movement!
Share how you are moving Fourward Together with the Wisconsin 4-H Movement
Share how you or your club live out the Wisconsin 4-H Movement with Chris Clover, download and print your own Chris Clover and then take them with you on your 4-H adventures this summer.
Open to all current Wisconsin 4-H members (5 year old kindergarten through grade 13).
Each individual and club can enter up to six submissions – one submission per 4-H Movement Value.
All submissions will be entered into a random drawing to win one of four gift cards.
Your submissions may be featured on the Wisconsin 4-H website, social media pages, and other promotional materials.
Submissions are being accepted Now – September 15, 2021.
4-H leaders may enter submissions on behalf of 4-H clubs and groups.
Upload your submissions here http://bit.ly/wi4hmovementpic or drop off your photo at your local Extension Office.
Be sure to tag #wi4hmovement if you post on social media, to share the fun!
Click here for informational video:  https://youtu.be/7oOnGJfbZzQ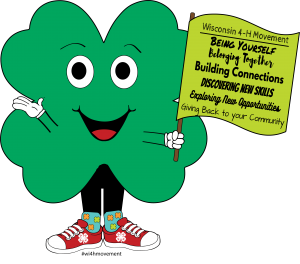 Click here to download a printable Chris Clover

Click here to download your entry