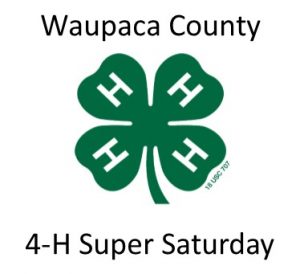 4-H Super Saturday will continue as scheduled tomorrow with registration beginning at 8:15 a.m. at Manawa High School. 
An event like Super Saturday is very difficult to reschedule.  After consulting with session teachers and committee members, it was determined to continue as planned with the start time.  Use your own judgement and if you do not feel comfortable with the weather conditions and coming to Super Saturday, please email penny.tank@wisc.edu or call 715-258-6230 and we will refund your registration payment.   
We look forward to a great day of learning and sharing!  See you tomorrow.