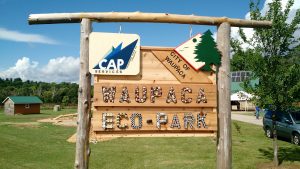 On Saturday, September 10, 2016 CAP Services and the City of Waupaca had a dedication ceremony for the new Waupaca Eco- Park.
This new park offers a natural playground area, an education center and the Connie Abert Amphitheater. The Eco-Park reflects all the things that Connie Abert emulated in her programming as the Waupaca County UW-Extension Youth Development Educator. Through out her career, Connie worked with every school district in Waupaca County to establish school forests, supported safe school routes to school, community gardens and all around healthy activities in the outdoors for students.
The Park is located on Webster Drive, near the Waupaca Area Humane Society in Waupaca.